Who is online?
In total there are
4
users online :: 0 Registered, 0 Hidden and 4 Guests
None
Most users ever online was
57
on Sat Apr 27, 2013 7:30 pm
Panic! At The Disco: Death Of A Bachelor

1. Your Name, Age, Country, GMT Time.
Julien, 25 yo, France, GMT+1
2. Your Nickname, Previous Servers/Clans.
Sylkk
Played a lot of french server when i was young, tried l2abyss few month, 
and played on Dex x4 1-2years (on Focus Clan and then the most part on TheOthers clan)
3. Your Class, Level, Sub, Nobless, U kill in Varka or Ketra, Equip.
He 69, no sub/noble. PL set + bop CS.
4. What Alt Chars (Buffers Spoilers Crafters) do u use?
WC 57 which i can play if need.
5. How many hours do u play per week? What is your Prime Time?
depends a lot if i have party or not (can play all day 7-10h a day if good activity, or less if no one need me)
6. Why should we recruit u ?
coz i'm activ and like to play in group and not alone (that the way i think a mmo must be)
plus i've played a lot of mmo (good world ranking or just fun)
7. Do u have any friends in clan that can reccomend u? What sent u to ZerG Forum?
no.
8. Do u have any friends who want to join the clan ? Names/Classes/Levels.
Maybe aby (TK 70+)
9. Do u want to be assigned to a CP close to your prime time?
it will be fabulous.
10. Can u handle a dualbox? You PC Specifications: CPU, RAM, VIDEO.
Yes i can easily. (i7 860  2.80GHz, 8GB ram, some random video card) 
11. Have u read the 
Rules 
and do u agree to them?
YEP !
PS : if you need some infos, ask me.
+1 from me, seems a nice person !

xSoulEat3r




Age

: 21


Location

: Bulgaria


Number of posts

: 8



That Aby guy...Have we met him on another server? His name and his look are soooo familiar to me.

MaKneR




Age

: 25


Location

: Thessaloniki , Greece


Number of posts

: 905



no meet him on this server only
i guess there is room in Smiler's cp for an archer
+1 from me

Rasen




Age

: 26


Location

: Greece


Number of posts

: 445



Smiler CP is full with Archers actually we just miss an EE


CantiZ




Number of posts

: 6



anyway there are more archers joining, if u could find some supports u could form another cp..
or u can always solo
pm tyler/rasen/siks/sl4ughter ig for inv

Rasen




Age

: 26


Location

: Greece


Number of posts

: 445



We have to start another Archer CP beside mine and SmileR, there are active archers without a party to play with, so we shall see to recruit some fresh blood



pm Sl4ughteR IG so we can talk more
_________________
Wounds heal, scars fade ... Glory is forever !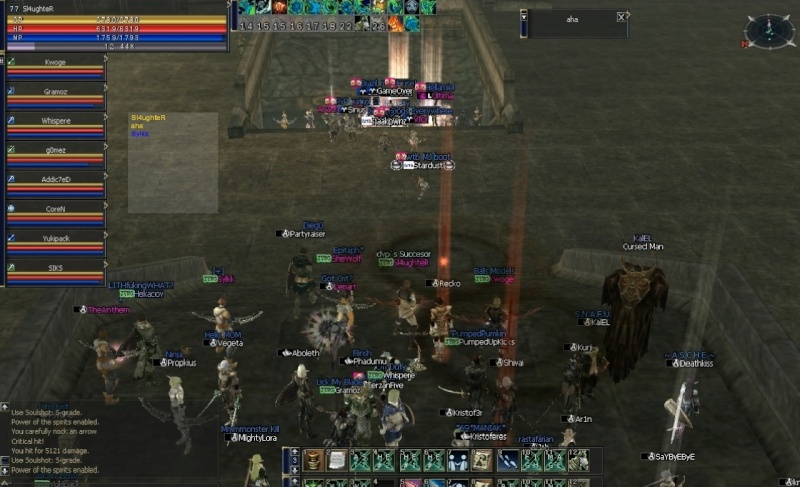 Sl4ughteR




Age

: 26


Number of posts

: 389



If server goes online sometime


CantiZ




Number of posts

: 6



ok, i'll do it.


pS : i can play EE on sub if need (my first plan was sws)
my skype for downtime : kivan7

---
Permissions in this forum:
You
cannot
reply to topics in this forum