Who is online?
In total there are
4
users online :: 0 Registered, 0 Hidden and 4 Guests :: 1 Bot
None
Most users ever online was
57
on Sat Apr 27, 2013 7:30 pm
Panic! At The Disco: Death Of A Bachelor

1. Your Name, Age, Country, GMT Time.
My name is Anthony I live in the USA EST
2. Your Nickname, Previous Servers/Clans.
My most famous servers were devianne and magmeld both were servers that I led clans on and were very successful.  Previous clans for this server I was in BNB with my cousin and brother.  We left because Stardust treated not only us but the rest of the members of the clan very badly.  
3. Your Class, Level, Sub, Nobless, U kill in Varka or Ketra, Equip.
Silver ranger lvl 68  no sub  no nob havnt started varka or ketra.  I have a Full majestic set with BOP and half B grade jewls.
4. What Alt Chars (Buffers Spoilers Crafters) do u use?
Ive got 2 low lvls buffers one WC round 40 and EE round lvl 31
5. How many hours do u play per week? What is your Prime Time?
I average around at least 4-5 hours a Day MINIMUM. Normal day 6-10 hours.
6. Why should we recruit u ?
You should recruit me because I have played since the start of L2 I plan on subbing support classes for the clan.  Im a very skilled pvp I can call targets on vent and I know what classes need to be targeted first.  I love seiges I know them in and out as well as raids I can raid all day long.  
7. Do u have any friends in clan that can reccomend u? What sent u to ZerG Forum?
not yet
8. Do u have any f want to join the clan ? Names/Classes/Levels.
My brother and cousin might be intrested but ima have to talkt to them my brother is a SWS lvl 75 and my cousin is a DESTRO lvl 75
9. Do u want to be assigned to a CP close to your prime time?
No thanks. I love playing with as many people as possible
10. Can u handle a dualbox? You PC Specifications: CPU, RAM, VIDEO.
I have no issues triple boxing but during seiges or pvp I prefer 1 box
11. Have u read the 
Rules
and do u agree to them?
yes

arkime2




Number of posts

: 2



+1 from me
we need every firepower we can get 
tell your friends to apply also!

Rasen




Age

: 26


Location

: Greece


Number of posts

: 445



We are meeting up for a fathers day event later today so I will DEFINATLY talk to them about joining.

 ty for +1 woot

arkime2




Number of posts

: 2



i think i sent that SR here, just donno about time diference .... anyway +1 we need some fresh blood
_________________
Wounds heal, scars fade ... Glory is forever !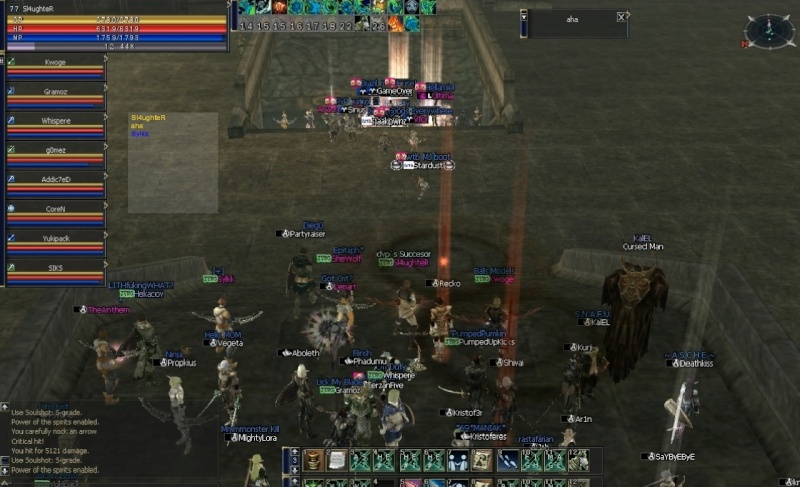 Sl4ughteR




Age

: 26


Number of posts

: 389




---
Permissions in this forum:
You
cannot
reply to topics in this forum